As we prepare for the summer we know that many of our members will be taking holidays so we wanted to update you on what we as a board have been working on over the last few months.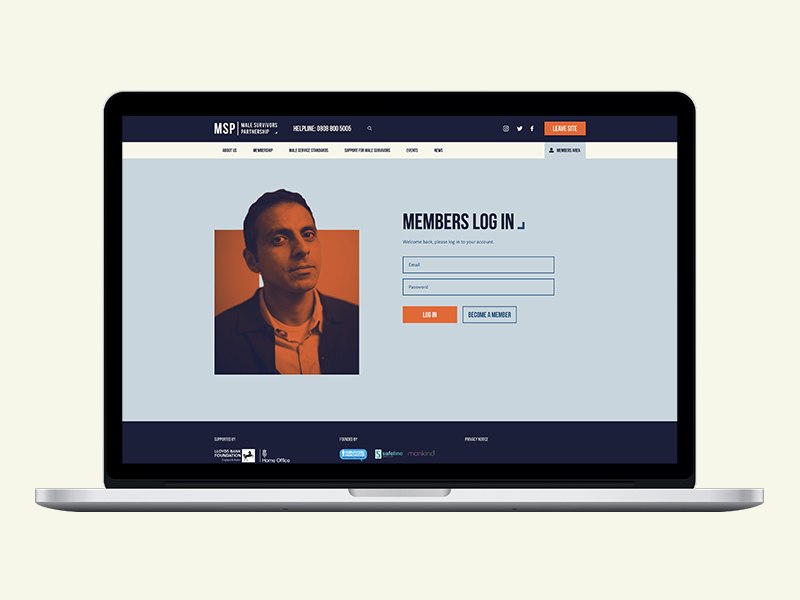 Since launching our new website, we have created a member-only area.
This area will contain exclusive information which will help you as members, including access to research, policy templates and support for sites going through the accreditation process.
Every member should have received their personal log in details. If you haven't, please email admin@hellosurvivor.co.uk
Resources for our members
We have started adding a number of resources to the 'members' section of the website. We've started by adding some HR policies that we think would be useful including:
Anti-harassment and bullying
Compassionate leave
Equal Opportunities
Flexible working
We are working with LimeCulture to understand other policies that might be of value when considering the accreditation process and will be adding further templates to the site over the next few months.
If there are any policies that you would like help with or think would be worth adding then please do email your suggestions to hello@malesurvivor.co.uk
As part of our commitment to supporting both male survivors and our members, we have invested in a library of NHS Self-help guides that cover a wide range of issues including Post Traumatic Stress, Self-Harm, Sleeping and Eating Disorders. There are 24 in total.
Click to download the library on iOS devices, or on Android devices.
The Male Survivors Partnership NHS Self-help guides are also available via our website here.
Please feel free to share the details across your social media channels and to survivors who could benefit from them. They're a brilliant resource and we know from experience that survivors do find them extremely useful.
Next wave of sites to go through the accreditation process
Following additional funding from Lloyds Bank Foundation for England and Wales, we've been able to announce that five additional services have been offered the opportunity to participate in the next Independent Accreditation Programme for Quality Standards for Services Supporting Male Survivors of Sexual Violence.
The five services selected are:
• Circles South East Counselling for Survivors
• RASASC North Wales Counselling
• Renaissance ISVA service
• London South Bank University SVLO* service
• The University of Sheffield SVLO* service
(*SVLO – Sexual Violence Liaison Officer)
The Male Survivors Partnership board wish each of the services the best of luck with the process.
Independent Review into the National Male Survivors helpline
At the MSP Symposium, our board member, Dr Siobhan Weare, launched our first research project – an independent review into the National Male Survivors helpline.
The project is going well. A group interview has been conducted with the staff at Safeline who work on the helpline so that a real perspective can be gained on the calls they receive and the experiences of men that they speak to.
The helpline data itself has all now been analysed, and the findings are being written up into two project reports (an executive summary and a detailed report), which will be published in the autumn. As soon as a publication date has been finalised, MSP members will be the first to know. Members will also receive copies of the report as soon as it is released.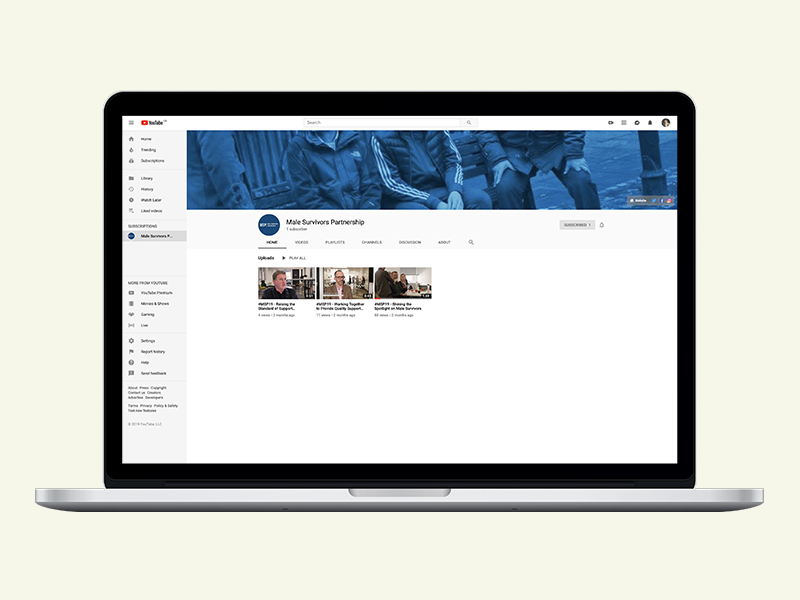 The Male Survivors Partnership YouTube channel
We have set up a new YouTube channel and will upload all our videos here. Click here and subscribe to the account to see all our videos. Including the ones taken at the symposium.
As you will know, we regularly email our members with updates, requests and details of member events etc.
If you don't receive these or emails or have a colleague that needs adding to the email distribution list, please email hello@malesurvivor.co.uk with the relevant email address so that it can be added to the correct list.
National Male Survivors helpline and Online service
Just a reminder that we support the National Male Survivors helpline. The number is 0808 800 5005. The opening hours are as follow:
Monday 9am-5pm
Tuesday 8am-8pm
Wednesday 9am-5pm
Thursday 8am-8pm
Friday 9am-5pm
Saturday 10am-2pm
For those services that don't offer a helpline function, please feel free to add these details to your website.
We have an established presence across social media via Twitter, Facebook and Instagram.
Please make sure you follow our accounts and do send through any information about events/initiatives you are working on so that we can share the details and show our support.
Send information for social media to hello@malesurvivor.co.uk
Follow our social media accounts below:
Members and Communications Lead
The Communications and Members Lead, Becky Roberts is available to answer any questions you may have about the Male Survivors Partnership, so please contact her via hello@malesurvivor.co.uk or call her on 0333 772 1245.
We've had a really busy start to the year and are really excited to see what the rest of 2019 will bring us. So much has happened within the political landscape and we are feeling really positive that our collective voice is being heard and changes are beginning to happen to help support male survivors of unwanted sexual violence.
Thank you for all your support so far and let's keep up this fight together.