Sexual Violence against Boys and Men: A Literature Review
Category
|

information-exchange
Agency:

Edge Hill University

Area:

national

Contact:

Gary Pleece

Email:
New Research Released by Male Survivors Partnership with Edge Hill University.
The last decade, particularly the last five years, has seen a substantial increase in research activity focused on sexual violence against boys and men. However, those supporting male survivors, and the communities of boys and men in need of support, rarely have access to research findings that may be of value to them.
One role of the university sector is to facilitate the exchange of knowledge so that research benefits society and so that research agendas are informed by the needs of relevant communities. Partnership and collaboration between academics, campaigners, and service providers has a long tradition within work on sexual violence against women and girls. The same level of collaboration has not been evident in relation to sexual violence against boys and men. This is largely due to the general lack of attention to the male victim-survivor experience of sexual violence, certainly in comparison to the female victim-survivor.
Specialist service provision for boys and men affected by sexual violence has a short history and whilst research in this area begins to emerge from around 1980, the volume of research is far smaller than that which has done so much to highlight sexual violence against women and girls. Our review indicates a substantive change in the volume of research being published in relation to sexual violence against boys and men over the past 5-10 years. Therefore, as specialist service provision also expands, and as frontline services search to improve the services they offer boys and men, it is critical that researchers work with the sector, including and especially with boys and men, to both develop and disseminate knowledge in relation to prevention and to improving responses to and services for boys and men.
There are some very positive indicators that such collaborations are already underway. In the UK, MSP were recently a partner on the JiCSAV project, led by Dr Siobhan Weare at Lancaster University, which explored the impacts of the Covid-19 pandemic on the justice journeys of sexual violence survivors. Earlier in 2023, MSP commissioned a report with University of Brighton researchers who, through the project, Men's Unwanted Sexual Experiences (MUSE), investigated what prevents men reporting incidents of unwanted sexual contact and seeking support
Recently, we had the ECPAT's first global summit on the sexual exploitation of boys as part of their ongoing Global Boys Initiative. A key element of this work has been the development of case studies of service providers in order to share good practice from around the world, including the work of MSP member, First Step in Leicester.
This Literature Review report, commissioned by MSP, can be seen as part of this endeavour. The report offers an overview of some key research literature on sexual violence with a specific focus on sexual violence against boys and men. Our intention has been to focus on areas that may be most useful for victims and survivors and those that support them. We particularly hope it may provide material and knowledge that will assist service providers to expand and develop their services. However, the report should be seen as a starting point rather than an end point and MSP is keen to explore the content with its membership and other stakeholders to develop more research and new training programmes from its findings.
By Mike Hartill, Edge Hill University, Trustee of MSP, Co-author of the Literature Review, July 2023
Read the abbreviated Literature Review deck with key findings – click the thumbnail below.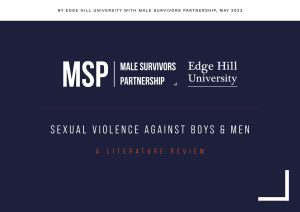 Read the full Literature Review report by clicking the thumbnail below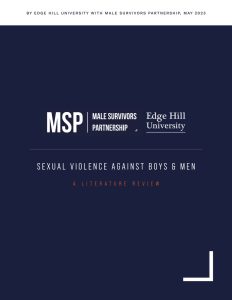 If you have any questions about this report or you'd like to discuss anything related to it further, please contact our CEO, Gary Pleece, at gary@malesurvivor.co.uk